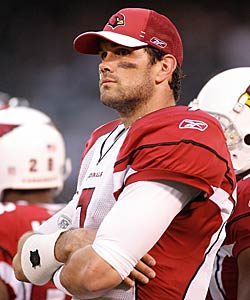 When I hear the name
Matt Leinart
, I think of
Eli Manning
. Kurt Warner will go down in history, in my opinion, as a better QB than Eli. And yet in NY Kurt sat so the
Giants
could play their franchise draft pick. Regardless of who gave them the better chance to win.
The same cannot be said for Leinart. Same situation, and yet he was deemed not good enough. Even after Warner retired, he was let go. Not even good enough to keep on the team, let alone take over once Kurt retired. Houston would be better off letting
Ben Tate
throw.
Granted Leinart will have a running game he didn't have durring his opportunities in Arizona, where they required a Quarterback who could *gasp* throw the ball accurately. But seriously, who can miss a target like Fitz?
Every year all the experts predict the
Texans
will show something. And they will make the playoffs this year, without question. But if they host a game, I predict a home blowout in favor of the visitors. Sad, really.
I was hoping for a Texans superbowl run. Its entirely possible. With a great running game they can keep Brady off the field, and who can't score on NE these days anyway? Save the
Jets
. I think they could have contended with the
Ravens
or
Steelers
as well. With a Peyton-less
Colts
team spear-heading to join the
Lions
in infamy, it was all lining up for Houston...look what they were doing
without
Andre Johnson
!
Texans fans, take a lesson from Cubs fans and get 'em NEXT YEAR
PS- ignore the over-used title
J. Michaels